What Happened in 2013 For PattonWebz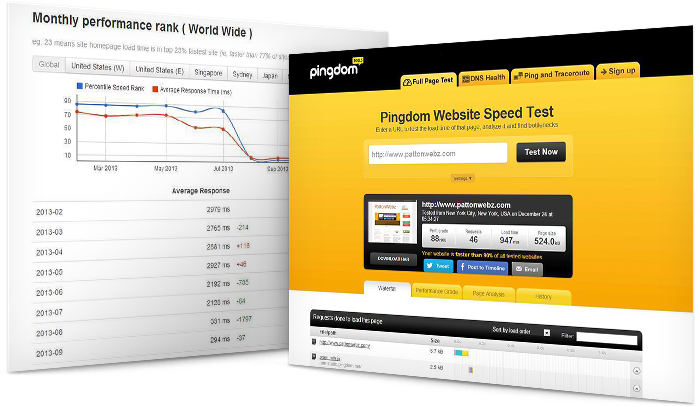 This year PattonWebz officially got big enough to become a business in it's own right. Some brilliant opportunities were offered to me and I met some amazing people while I worked but above all I learned a lot about all kinds of great new things.
As usual I spent lots of time expanding my knowledge of SEO, Internet Marketing, WordPress and general Web Development but I also branched out a bit and it served me exceptionally well. 
In a nutshell 2013 was a great year for the PattonWebz site and, on a personal level, was great for me too.
Building, Configuring & Maintaining Servers
Lots of my time was spent building & maintaining servers, learning more about how the underlying software and hardware powers everything and the effect that the running environment has on the content it serves. I was especially interested in how certain tweaks and combinations of hardware & software could affect online performance.
I used the new knowledge to build a hosting infrastructure with performance and site optimizations at it's heart. Multilevel caching, PHP acceleration helps make sure what is on the server gets processed quickly while output buffering through the PageSpeed Optimization Libraries ensures what is sent to the end user arrives fast and conforms to the performance best practice rules.
I see jQuery code all over the place in WordPress themes – and it's used heavily in the Bootstrap framework – so I finally bit the bullet, got a few courses, and learned how to use jQuery and JavaScript properly. I've been able to write JavaScript code for as long as I've been writing HTML but I've never really took that time to learn how it truly works. I was seriously surprised when the sheer power of it dawned on me and I can't believe I've been undervaluing it for all these years.
Multimedia
I took an unexpected foray into different multimedia tasks this year. I've always done graphic work for design tasks but this year people wanted more of it and they also wanted complimentary videos on their sites – and lots of them. Video marketing has been steadily growing for a while now but in the last 12 months they seem to have become much more prominently used on sites and frequently get used as the main body of a Call to Action block on homepages and above-the-fold. They also get used to give off trust signals and as a way of giving people a lot of information in an easily digestible way.
Infographics
And speaking of easily digestible information 2013 was the year of the Infographic – at the beginning of the year they were absolutely massive but over time they seem to have dropped in popularity somewhat. Personally I think think they have fell out of favor what I think has happened is that people have got picky and want quality over quantity. A year ago there were hundreds of new – and seemingly interesting – Infographics flying around but now it's only the exceptional ones that stand out in the crowd.
One of the ways developers are making inforgraphics stand out is by making them interactive. Scrolling through a page and interacting with the charts and information on it makes things a much more enjoyable experience – especially if the topic choice is somewhat uninteresting.
Content
I stepped things up this year when it came to the content published on the site. Everything published on the site was high quality and well researched. A lot of time was invested in Keyword and Social Research so that I could guarantee there was interest in the content I was creating and that it would be found by the right people.
All of that research paid off because it made the SEO of every post second nature. I didn't have to consider it before, during or after writing posts – because good content SEOs itself 😉
The big wins were with posts about responsive design – responsive navigation in particular. The 2 highest trafficked posts on the site are both about building navigation menus that are responsive and mobile friendly. One of those posts focuses on Building Responsive Menus for WordPress with Bootstrap and Twittem's Excellent Bootstrap Navwaker.
Design
Responsive Design played a big role in the site's success this year. In the previous 12 months the popularity or responsive web design has continued to grow – that makes sense considering the speedy growth of the mobile market. Everyone who does business online should be considering how mobile browsers see their site and luckily PattonWebz has been fully responsive for almost 2 whole years 😀
Guest Authorship
I took on some authorship positions this year. Initially I was successful – I secured paid authorship positions and was making a real difference to the sites I wrote for but eventually it became unsustainable. I was spending too much time writing for other sites that I didn't have time for my own and eventually decided to call it quits.
After being messed around by numerous site owners that were less than professional I decided the right thing to do was to keep my best content to publish on my own sites and reap the rewards of my effort by building my own business on the back of some great content.
Networking
From the end of 2012 and all through the following year I spent a lot of time on Twitter where I discover a remarkable thing. Some of those accounts are actually real people who'll talk back if you speak to them. Even more than that if you go out your way to be genuinely helpful on Twitter the rewards are huge.
If you use Twitter properly you'll build some great relationships with customers, clients, peers and you'll even make some good friends along the way.
The People
I met a load of great people this year, so it's only right that I give them a shout out for their help.
What PattonWebz has in Store for 2014
I plan to continue my mission to tackle negative performance issues on the web, ramp up my content creation and publishing callender. In terms of design I still plan to focus on conversion driven responsive design and building an array of WordPress themes to release.
As a Developer I will be working on different WordPress plugins and integration throughout the entire year but I also plan on building a full suite of performance testing tools. I have a functional pagespeed score testing tool available on the site now in public beta if you wanted to try it.
I'm also working on a web crawler for me to use for reasech purposes and an API framwork that I plan to use for 2 projects – one that allows me to remotely check the status of my Rasperry Pis and tell them what to do through a web interface – without needing to establish an SSH connection.
The NinjaWebz Infrastructure
I'm putting my knowledge of servers and hosting infrastructures to good use by offering a hosting service that gives you everything you need to run a fast, optimized, WordPress site. I'll be launching a beta for the service at the very start of the new year but if your interested give me a shout now and I'll let you try it.
---
Related Articles